It all started on a driving vacation. We were enjoying seeing the sights with no timetable for being anywhere in particular. But, we were not enjoying trying to find clean restrooms when we needed them nor were we enjoying sleeping in a different bed every night. I started reminiscing about a three week vacation we once took in a rented Class C motor home. Dave's memories of that trip, however, included the challenges of driving and parking such a cumbersome vehicle.
Being the dedicated computer people we are, I promptly Googled "RV Class B" and found a world of appealing options. One of those options was Sportsmobile which offered cut-and-paste design-your-own plans. I could hardly wait to get home to my printer and scissors!
But, all that cutting and pasting was not telling us what it would really be like to be inside such a small unit. So we started checking out local RV sales places. Our web research had led us to think we might like a Roadtrek, and a local dealer had one we could go see. So we went. Twice. The second visit we sat in one discussing possibilities for about an hour. We really liked the Roadtrek Popular 210 so we persuaded ourselves that Dave having to bend his neck to stand in it wasn't much of a problem.

Then we learned about the possibility of having an RV built on a Dodge Sprinter chassis. The Sprinter is taller than most vans so maybe that would be the way to go. So, off we went to the Dodge dealer to drive a Sprinter. Dave liked it! But it was unfinished inside, would it have enough headroom once it was converted to an RV?
So we found a Pleasure Way Plateau, which is built on a Sprinter chassis, we could go see at another local dealer. Oops, not tall enough after all. But wait! The one we were in was a 2006; the 2008 would be taller inside. Tall enough? To soon to tell since they weren't out yet.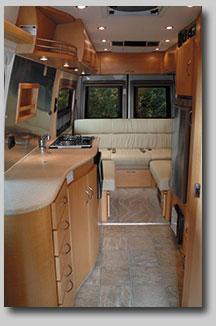 While we waited to find out, we continued our research in other areas. That lead us to the Escapees Club and their on-line discussion forums. This is a group of people, most of whom live in their RVs full time, who are willing to talk about the pros and cons of every aspect of RV living. I learned a lot of things from them. Once of the best being the existence of the RV Consumer Group—the group who does for RVs what Consumer Reports does for other categories of products. Membership in that group brought us several things including a great book: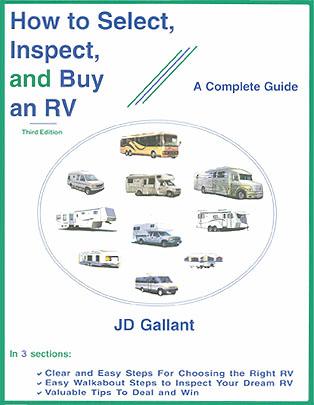 and a CD listing ratings of motor homes. There we learned that the Sportsmobile was the only Class B RV that would likely stand up to the things we wanted to do in it.
So, that's the one we need to buy. IF. If? Yes, if. If we can actually live in such tight quarters for extended periods of time. We knew from previous camping experience we could do that for three weeks but could we do it for three months?
Thus came our next experiment. We moved into our dining room.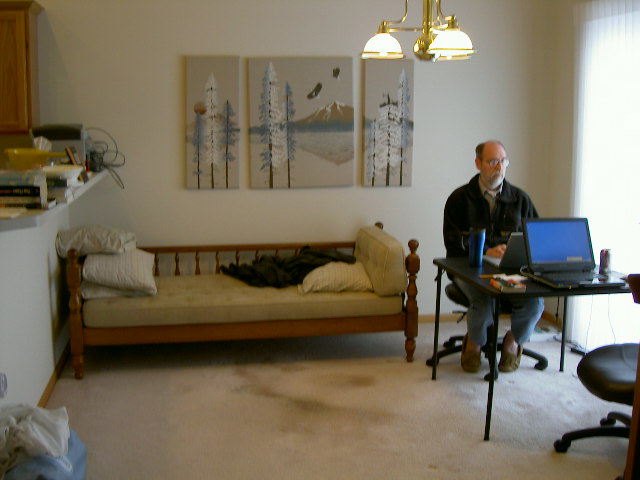 We removed the furniture from our dining room and put in a daybed with office chairs to represent the cab chairs which will have a small table between them. Since this space is open to the kitchen, to the left of the bar in the picture, we figured this was a close as we could come to living on top of one another inside our current house. The mess on the on the bar is all the stuff we've moved into this space as we find we need it. It includes all the dishes we've used for cooking and eating as well as things like our clock, computer printer, and books we are reading. More about the books later.
In the picture Dave is working at his computer while mine awaits my return to it. For meals, we pack away the computers and eat at this same table. We hand wash our dishes using only one bowl of our sink and cook using only two burners, the microwave, the toaster oven, and the counter between the sink and stove.
We sat on the daybed and watched a movie on a computer to represent the much smaller TV we will have in the camper than we have in our living room. We are glad the camper will have a better sound system than the computer does.
So, we are living in this reduced space while continuing our research.
And that brings us back to the books. On the web I found a place called the RV Bookstore which sells books telling us pretty much everything we might need to know about living in an RV. But part of our research regarding living in a small space is: can we stop buying so much stuff? So we wrote down information about some books we were interested in and went to our local library where we checked out a couple of good books like this one: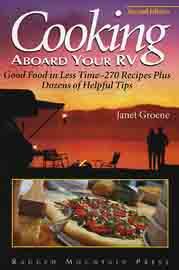 We'll be back to the RV bookstore, though, because once we hit the road, our local library won't be so readily available to us.
Today I got an email from Sportsmobile. The 2008 Dodge Sprinter will be tall enough for Dave to stand upright inside. So, guess where we are planning to go next?