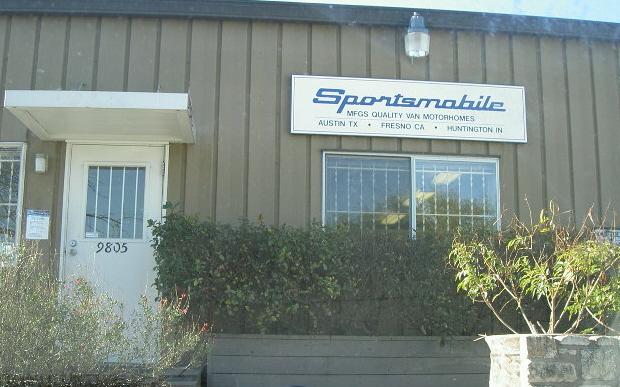 We arrived at Sportsmobile's factory in Austin, Texas, on a Thursday morning in January of 2008 knowing exactly what we wanted to buy. Within an hour we learned we were wrong.
I had spent days and days on Sportsmobile's design-your-own website making plan after plan to help determine exactly what items we wanted in what locations to make our new RV the best it could be to meet our needs.

For the kitchen/dining area we made arrangements for the driver and passenger seat to swivel and placed a table between them. We placed a cupboard between the stove and sink so we'd have a work surface where we were used to having one. Across the aisle from that we placed a microwave oven above the largest frig available. For baking we planned to hang a toaster oven large enough to hold a 12" pizza over the work counter. With cupboards above and below the stove and sink and a pull-out pantry we'd be able to make the simple meals we prefer to cook and eat.
The next area down the aisle, we called the dressing room. With a bathroom and chest-of-drawers on one side of the aisle and a couple of closets on the other side of the aisle, we'd have everything we needed close at hand. We designed the placement of things so opening doors to these areas effectively closed off the aisle providing privacy without having to run around closing all the drapes.
The final area was the bedroom. We placed a dinette bench on each side of the aisle making Dave's side longer than mine since he is almost a foot taller than I am. We extended the height of the arm at the rear of the beds to act as a headboard that we could lean pillows against to provide feet up sitting. At the foot of Dave's bed we planned to hang a TV with a built in DVD player so we could watch the movies we so love. At the foot of my bed would hang the clock that tells us not only what time it is but what day it is as that is something it's easy to lose track of when you are retired.
Then we discussed all those other things like heating and cooling and power sources that aren't as much fun to design but are necessary items of comfortable living. So we went into Sportsmobile's office knowing exactly what we wanted.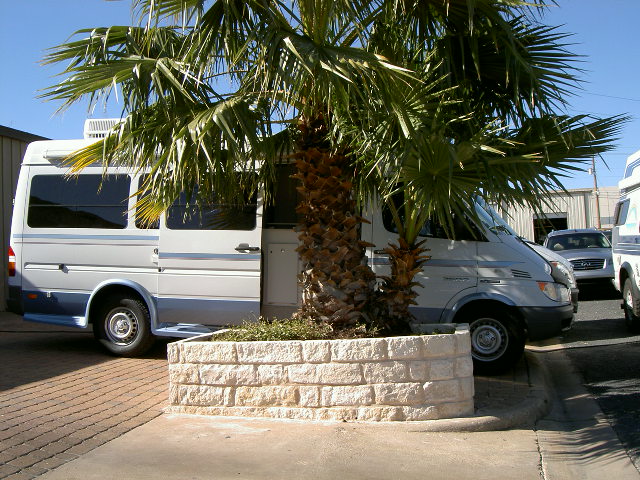 Then Paul took us outside to sit in one while we talked about our plans. Smart man that Paul. It took us only moments to learn why most people put all their tall cabinets on one side of the aisle with the short ones on the other side. If you don't do that, you wind up with a very narrow canyon down the middle that makes everything feel very crowded indeed. After a lunch break Paul talked us through what else we wanted in such a way that he made us feel changing our minds about nearly everything was exactly what we had come there to do.
So, back at the motel that night, we redesigned everything once again. The next morning Paul agreed that our new plan was much better for many reasons.
Now all we had to do was place the order, right? Sort of. When we started filling out the order for the vehicle that would be the base of the conversion we discovered we'd never talked about such simple things as what color did we want it to be. It took us until 1:00 pm to write up the order. But order it we did. Now we just have to wait for the vehicle to arrive at Sportsmobile's factory, then for them to do the conversion, and then we can hit the road.
Except! We hadn't even left town before I started redesigning the interior again. We get to keep doing that right up until the vehicle arrives and is ready for the conversion to start. Even then we get to make minor changes such as where to put drink holders and bathroom grab bars the day we pick it up. Then we'll camp in the area for a day or two to make sure we don't have any last minute tweaks before we truly hit the road. Look for us out there in July or August.